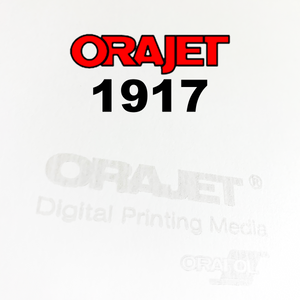 Orajet 1917 Printable Adhesive Vinyl (Ink Jet)
Have a complex design?  You'd rather print than layer your adhesive vinyl decal?  We've got you covered!
This vinyl is for use in your desktop Ink Jet Printer.  We highly suggest the use of Oraguard 200 laminate to protect your projects from running and fading.  Click "size" to find them both in one convenient bundle!
NOTE:
Sheets are 8.5"x11"
The laminate included in this product is matte
Highly Recommend
The Orajet 1917 is very easy to work with. I would highly recommend it to anyone who hasn't used it. Thank you Vinyl Meragerie!
Orajet 1917 Printable Adhesive Vinyl (Ink Jet)
This is the first time I use this printable vinyl and it was super easy to use and added Oraguard 200 laminate for protection. Always amazing products and fast shipping
Orajet 1917 + Oraguard 200 laminate
Product performs well. We'll see overtime how it continue to stick and resist weather since it's for outdoor/water usage
Great printable vinyl
My first printable vinyl project and it worked flawlessly. I used the matte laminate also and after applying cut on the light cardstock setting on the cricut. Will definitely order again as it's a great product. Thank you.
The only printable vinyl I love and trust!
I ONLY use Orajet 1917 for my printable vinyl needs. I use the Oraguard for laminating it afterwards for added protection and it's never done me wrong.
It's easy to maneuver if it gets put in the wrong place, to just peel it back off and put it down, but it also stays put after you've applied it for it's long term position/placement. I've used it for logos for businesses, I've used it for printed decals on epoxied tumblers as well as non epoxied plastic water bottles and even as stickers. It's been a great product for me so far :-)
Also, it's not too thick. Even with the laminate on it, there's no high edge around the decal. It's nice.