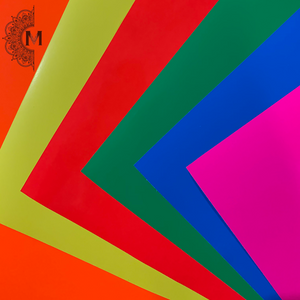 Gotta Wear Shades - Adhesive Bundle
This bundle reminds us of a new package of highlighters!!  It's SO bright, SO fun and permanent too! If you love Styletech's fluorescents but can't decide which colour you want... Get 'em all and save 10%!  Winning!
INCLUDES:
One of each colour of Styletech's Fluorescent line in your chosen size.
NOTES:
Because every monitor/screen is slightly different, the actual colour of the product can vary from the image.
The actual size of the sheets can vary up to 0.5 inch.
Beautiful to look at
The colours are amazing but at soon as you unroll the vinyl it creates big lines of air across the page and you can't fix it so you can't make big projects with it. The glue also comes off very easily and gets stuck all over the front of the vinyl if you drop or slide a piece on the rest of it. I have to clean my weeder off numerous times for a small project.