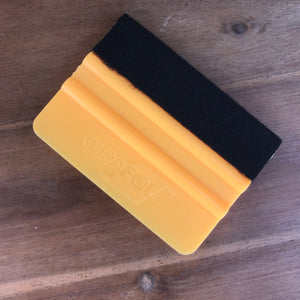 Felt Edge Squeegee
Squeegee... still a funny word!
This 4"x3" tool makes applying your decals and/or masks SO much easier!!
One edge for precision and a softer felt edge to avoid damaging your decals!

Felt Edge Squeegee
Amazing squeegee! Works well with delicate product and better than I imagined with wet projects!!
This thing is a game changer
This squeegee works great! No more catching an edge of a bubble and ripping vinyl! Love love love this!
Overall worth it
Makes the application process so much easier and doesn't lift your vinyl... felt edge is so ideal and if you still like to use a hard edge it's double sided, although some strings of felt come off and sometimes get stuck in my work.